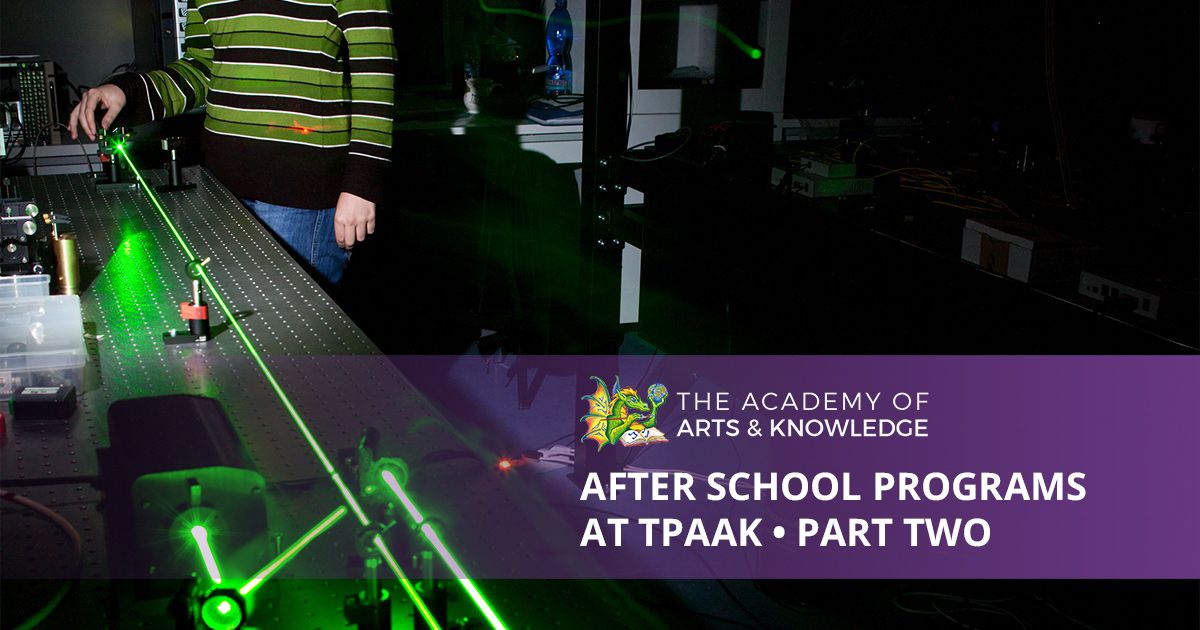 After School Programs at TPAAK, Part Two
At The Academy of Arts and Knowledge, we aim to to be Fort Collins' finest performing arts elementary school. From a unique curriculum that emphasizes the arts to a highly skilled and experienced staff, TPAAK is committed to providing the students of Fort Collins with an educational environment that's unlike any other school in the area. If you are looking for an elementary school in Fort Collins that allows your child's creativity to flourish while also helping them reach their maximum potential, TPAAK may very well be the perfect environment for them. To learn more about our Fort Collins performing arts elementary school, contact us today.
In part one of our blog series, we talked about some of the extracurricular after-school programs that we offer our students, from our after-school dance program to private music lessons. Don't think that our after-school programs stop there, though. The after-school programs at TPAAK cover a variety of areas, aimed to appeal to students with many different interests and strengths. In part two of our blog series, we will look at a few more of the after-school groups that we offer your child.
Mad Science
Science doesn't have the be limited to the classroom, and for students who can't seem to get enough of science class, our Mad Science after school program is perfect. In this fantastic after-school program, students are able to watch demonstrations and participate in stimulating activities, discussion and even work on take-home projects. This group is a great place for students who may not have much interest in the more artistic offerings in our after-school programs, but have a knack for experiments and a curious mind. Create fun and interesting toys, acquire new skills and make connections between science and everyday life. A great place for all and any aspiring scientists at TPAAK!
Lego Engineering
Playing with Legos is a staple of many children's upbringing. While some play with them and eventually move on to other toys, others go even further, creating buildings, vehicles and other objects that are incredibly ornate and complex. For the student who can't seem to get enough of creating with Legos®, our Lego Engineering program is a great place for them to go even further. Each student is about to explore our extensive connections of Lego pieces, building elaborate objects and more.
Much like our curriculum here at TPAAK, your child is encouraged to use their imagination and take risks, without the fear of making a mistake. Additionally, they are able to see how their love of building with Legos contains basics of engineering and physics.
Drama Club
Aspiring thespians, we haven't forgotten about you! Some of the most prominent actors and actresses of the day got their start performing in plays as children, and TPAAK is proud to offer a drama club for our students that want to develop their acting skills. Auditions are open for students from second grade to fifth grade. This is not only a great way to help your child develop as an actor or actress, but become more comfortable with things like public speaking as well.
That's a broad overview of some of the things that we offer as after school programs here at TPAAK. Don't see something that sparks your interest? Fear not—this is only just a selection of our after-school programs that we offer your child. At the Academy of Arts and Knowledge, we work hard to help provide your student with a learning environment that encourages growth, creativity and confidence, and our after-school programs are a great way to supplement what they are learning in school. To learn more about how our Fort Collins performing arts school can best serve your child's needs, contact us today!