WELCOME TO AAK ELEMENTARY
Where we believe that learning should be a creative and immersive experience for all.
If you're looking for an innovative and dynamic approach to learning that emphasizes academic excellence, creativity, and inclusivity, discover our program today and see why our students are thriving.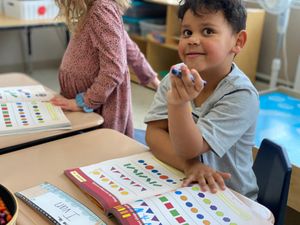 THE ACADEMICS AT AAK
AAK offers a well-rounded arts-integrated program, educating the whole child. We deliver a quality core curriculum in ELA and Math. Our classrooms utilize the workshop model to ensure small group time with the teacher every day. We also offer 30 minutes of personalized intervention for reading per day. We target the individual student by solidifying foundational skills or critical thinking skills that are above grade level. Our academic day is accompanied by movement, sunshine, and fresh air! Our students receive plenty of time throughout the day to nourish their bodies as well as their minds. It is not uncommon to see our students enjoying lunch outside in the beautiful Colorado weather!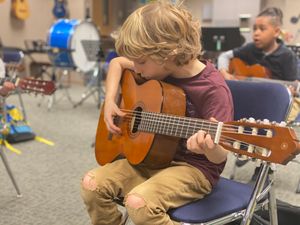 THE ARTS AT AAK
Students receive 60 minutes per day immersed in Music, Art, or Dance/Drama! Students are encouraged to discover their areas of interest and are provided the opportunity to excel. Many students find new areas of passion they didn't even know they had! From behind the scenes to front and center there is something for everyone. You will not want to miss our quarterly Showcases where our students present their arts-integrated projects to our school community.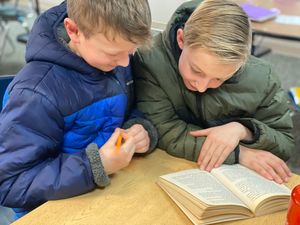 SOCIAL-EMOTIONAL SUPPORTS AT AAK
We believe our role is to facilitate lifelong learning and provide the foundation for every student to be a successful, kind, and respectful adult. Restorative practices supported by Positive Behavior Interventions and Supports (PBIS) are critical to student development. Our goal is to have all of our students own their choices, learn from their mistakes, and be able to make better choices in the future. These are situations that allow for self-discovery and growth. Restorative conversations are a valuable key component of this process. Students are able to express how they were feeling, how an action made them feel, and a way to restore the relationship.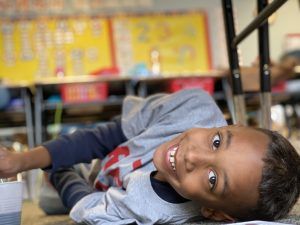 YEAR-ROUND LEARNING AT AAK
Our non-traditional school calendar consists of more frequent and longer breaks with a 9-week summer break. Our students' and staff's emotional well-being is a top priority. Our breaks allow for students and staff to relax, spend time with family, and be ready to fully engage in academics after the break. Sound stressful for your work schedule? Check out below for how we support our families with free before and after-school care and free school break programming.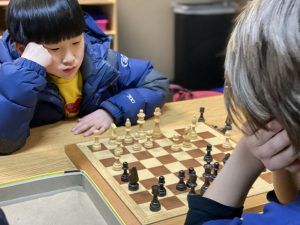 FREE OUT OF SCHOOL PROGRAMMING AT AAK
We are proud of the AAK Community Learning Center (CLC). We support our students and families by offering free before and after-school programming as well as programming during all of our breaks. Students are able to engage in guitar, violin, band, choir, percussion ensemble, game coding and design, dance, drama, musical theater and more at no cost to you! Our summer camp will keep your student active and involved in the community around them. Summer days are filled with games, outdoor activities, projects, arts and crafts as well as field trips. All of these activities are provided to our enrolled students at absolutely no cost to you, with no catch, and no gimmicks.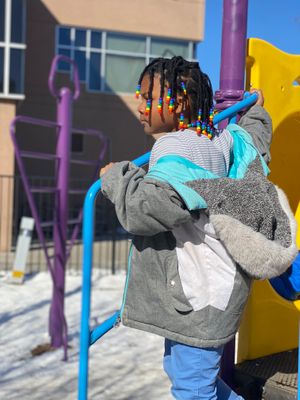 THE DATA AT AAK
Test scores are certainly not everything and we don't "teach to the test" at AAK, but they do provide a benchmark on how AAK students are doing as compared to their peers. And that data shows that AAK's program works. By focusing on your child as an individual first and a student second, AAK lays the foundation for a lifetime of learning. AAK is a Performance with Distinction School -- the highest academic rating available to schools in Colorado. This means our students are learning and growing. They're reaching and even surpassing what they should know and be able to do at key points in their academic careers. And we make sure all of our students see the same high level of achievement across the board. Equity is a major focus at AAK. We work hard to ensure all children get the education and support that they need and deserve. We are dedicated and passionate educators. We know that every child comes to school with a different set of skills and interests, with different cultural aspects, different socioeconomic backgrounds, different gifts, and challenges. No matter what your child's educational starting point is, we are here to help your child reach goals like peers who have had fewer challenges. No one's past has to predict their future.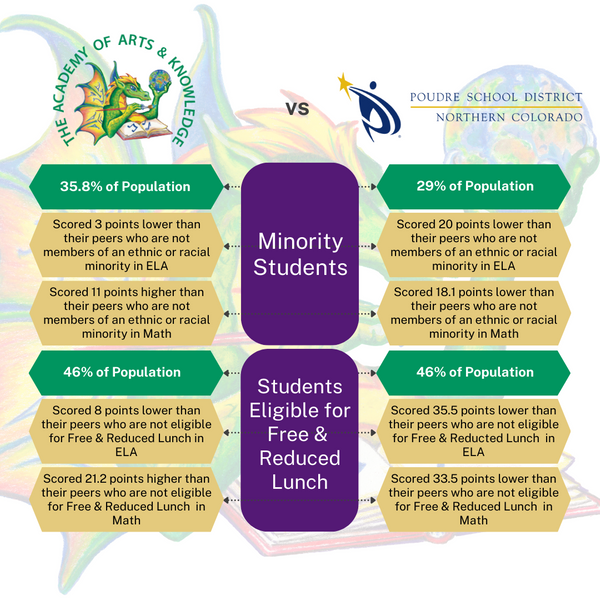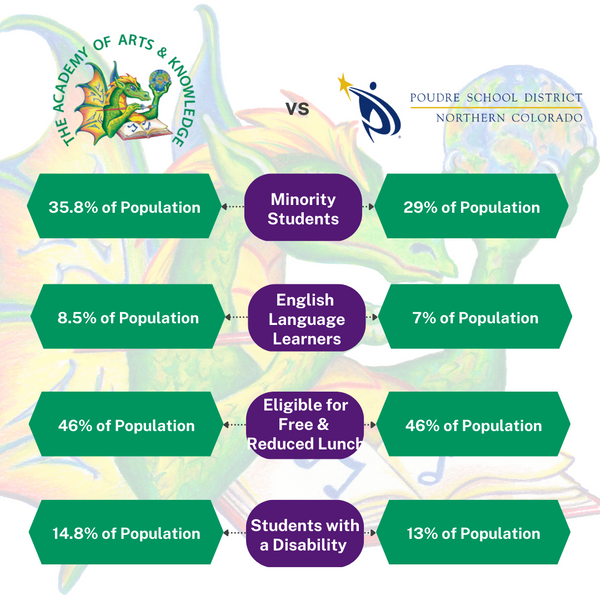 Expect More From Your Elementary School